The Exchange Server 2013 Edge Transport role can be installed on the same server operating systems as other Exchange 2013 server roles – Windows Server 2008 R2, Windows Server 2012, and Windows Server 2012 R2.
For this demonstration I will be installing on a Windows Server 2012 R2 server.
Preparing to Install Exchange Server 2013 Edge Transport
After installing the operating system configure an IP address, any static routes that may be required, and give the server a name (as well as a DNS suffix).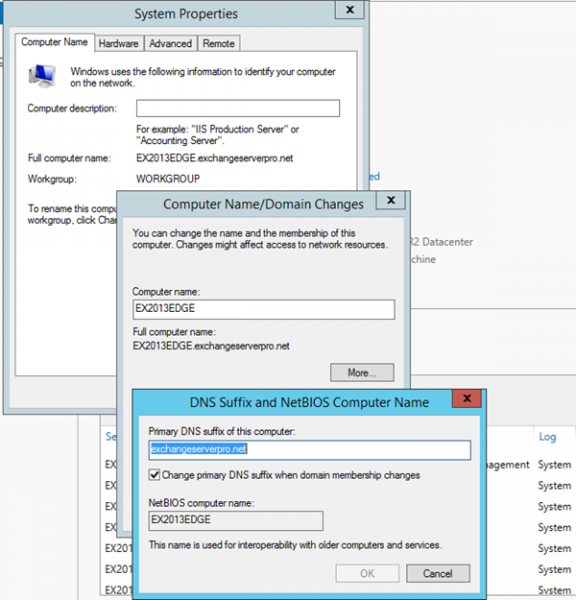 The server does not need to be a domain member.
There are two important DNS requirements:
The Edge Transport server must be able to resolve the Mailbox server names in DNS. An easy way to achieve this is to point the DNS client configuration on the Edge server to your internal DNS servers (this may require opening a firewall port).
The internal Mailbox servers must be able to resolve the Edge Transport server in DNS. You may need to manually register a DNS record on your internal DNS servers for this.
There are also some firewall ports to open:
Port TCP 25 (SMTP) inbound/outbound between the internet and the Edge Transport server
Port TCP 25 (SMTP) inbound/outbound between the Edge Transport server and the internal network
Port TCP 50636 from the internal network to the Edge Transport server for EdgeSync
The only pre-requisite feature/role is the Active Directory Lightweight Directory Service.
Installing Exchange Server 2013 Edge Transport Role
Download the Exchange Server 2013 setup files (Service Pack 1 or later) to the server and run the following command from an elevated command prompt to perform the install.
A reboot is required after setup completes.
After installing the Edge Transport server you can configure an Edge Subscription to establish inbound and outbound mail flow.